ARTEMIS Features

Zurück zur deutschen Version dieser Seite.
The ARTEMIS sailing canoe is the small sister of the Bufflehead sailing canoe. Like her, ARTEMIS is a very versatile ultralight 50-50 expedition canoe that can be equally paddled as well as sailed.
Sailing
ARTEMIS is a joy to sail. In light winds, she is one of the fastest sailboats on the lake. With a little more wind, the canoe can be sailed very sparkling and wild. She is lively and responsive, and she can sail in modern company and not be outclassed. Agile, experienced sailors with good balance sit on the side deck or can even hike out on a sliding board, but there is no need to. You can as well reef and remain seated in the cockpit seat. With wind from abeam or abaft, the boat will plane easily. Like all boats with flat bottom, ARTEMIS will work best when sailed level - with little or no heel.
In very light winds, we often sail and paddle at the same time, thus keeping a speed of about 5,5 km/h without much fatigue.
We have three rig options so far, and are working on some more. All rigs can be stowed within the boat:
The Bufflehead sail with its carbon rig has a superior quality and efficiency. It is fully battened, so has a perfect shape even in very light wind, can point high and go fast, and is therefore used for big cruises and regatta sailing
The Solway Dory bermudan sail with its aluminium rig is very easy to reef and is the right rig for fast changing conditions and jointly cruises
The lugsail and its woden rig is a good all-round sail with an outstanding price-to-benefit ratio.
An additional roller furling jib, used together with the Bufflehead sail for competitions.
Paddling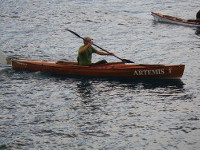 You can paddle ARTEMIS with a single or with a double paddle. Lift the seat into the special "paddling" position when you paddle longer distances. The canoe has a very stable position in the water and behaves good-natured and predictable in waves. This makes it safer in borderline situations than a kayak. Photographers can take the hands off the paddle and concentrate on their job without feeling insecure.
Transport
ARTEMIS is certainly light enough to be cartopped. You can load her on the roof rack without assistance. On land, we use a canoe trolley or just take her on the shoulder.
Adventure cruising and travelling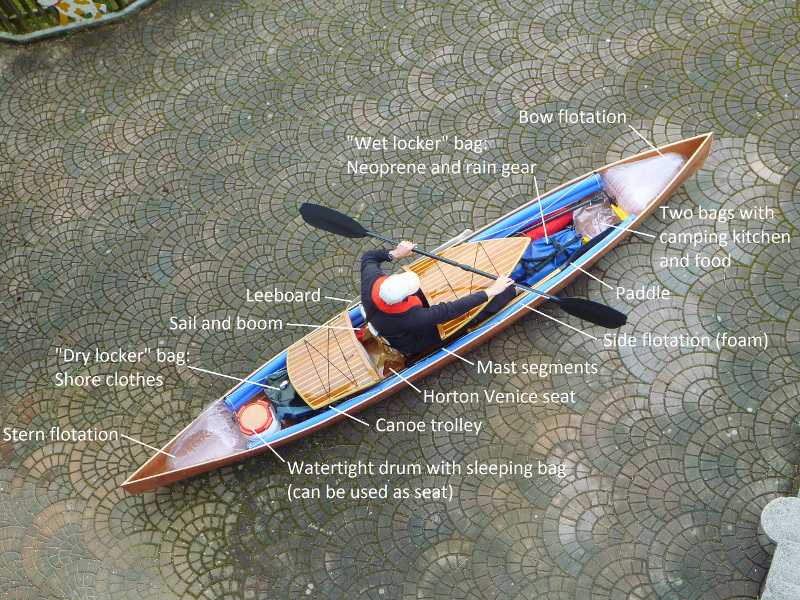 The boat has enough stowage area to carry lightweight camping gear, food and water for two days. Don't forget some outdoor clothes, your sleeping bag and a mattress, and go cruising. You can sit on the very ergonomic HUGH HORTON VENICE cockpit seat all day - no need to hike out. This is the reason why cruising an ARTEMIS can be so relaxing and comfortable. I do normally sleep in the canoe, under a tarp or a tunnel tent.
Building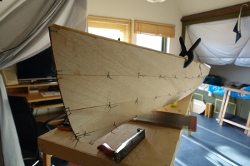 The easiest way to build an ARTEMIS sailing canoes is from a kit, but plans are also available. Building an ARTEMIS is suitable for a first-time builder. The plans are more like a book than a plan, with lots of photos, and give detailed information on each building step, how to join the plywood, how to mark the shapes of the panels, how to use the epoxy. The kit instructions are even more detailed. You can use them as a course on boatbuilding than a simple plan. One of the first things you will notice is that there is no timber framing. The interior is very clean and open. Less structure saves weight, and fewer parts so the boat builds much more quickly. Expect about 100 to 120 hours if you build from a kit and some more if you build from plans.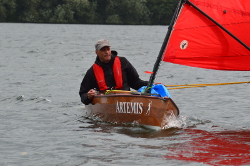 As building space, a standard carspace is more than adequate.
Versatlity
It is astonishing that I use ARTEMS much more often than any other boat I have owned. It is so easy to launch and just go cruising. This is something that everybody told me who has built an ARTEMIS sailing canoe for himself.
Pictures on this page are from Koos, Graham, and Mario.
Zurück zum Seitenanfang
Zurück zur Einstiegsseite