Hugh's Pages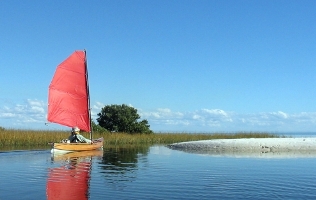 Hugh Horton has lived most of his life on or next to the water. He has rowed, sailed, paddled, or otherwise small boated the US ocean coasts, Western States' reservoirs, the Great Lakes, the Bahamas, the Caribbean, England and Micronesia, and worked aboard a freighter to the Far East in 1969.
Hugh was a student at five universities principally studying engineering, geology, technical and non-fiction writing, and fine arts photography. As a teen he worked as a lumber handler in the family pattern lumber business, was a mobile home park service handyman, a roofing subcontractor, photographer, motorcycle shop owner, merchant seaman, filmmaker ('72 New York to Bermuda Multi-Hull race), construction superintendent, farmtown carpenter, and ran the lumber business. He is a boatbuilder, writer and environmental activist. He has three children and four grandchildren.
Hugh has been developing and building sailing canoes for more than three decades, with the Bufflehead sailing canoe as his most advanced design.
In the last few years, he has been developing, building, prototyping and using the 10'4" Clam Girl dinghy prototype, a concept for "sailing... which should be accessible to all."
Currently, Hugh is developing Octo, a slightly bigger sailing / rowing boat suited for elderly people
Links
The Joy of Six10: Hugh builds teak Gunwales on Clam Girl and gives good insight into Clam Girl's purpose.
Sailing Canoes at Cedar Key: Simon Lew has made a wonderful video at the last Cedar Keys boat festival, starring Hugh Horton in Bufflehead and Bill Ling in Aku. About 5 minutes of red-sailed canoe goodness. Prepare for the paparazzi.
Planing around at the Cedar Key Small Boat Meet 2014: Simon Lew has also blogged a good number of nice pictures of that event.
From Serendipity to Bufflehead: A detailed description of the Bufflehead sailing canoe and its components
Modern decked sailing canoes: The sailing canoe history and Hugh's history on the way to the Bufflehead.
Bufflehead Design Review: A short review of the building method with pictures
Bufflehead... A 21st Century, Solo Cruising Sailing Canoe The Bufflehead sailing canoe and its predecessors.
Back to top