Hugh's Pages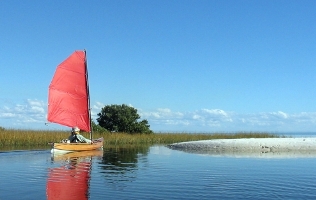 Hugh Horton has lived most of his life on or next to the water. He has rowed, sailed, paddled, or otherwise small boated the US ocean coasts, Western States' reservoirs, the Great Lakes, the Bahamas, the Caribbean, England and Micronesia, and worked aboard a freighter to the Far East in 1969.
Hugh was a student at five universities principally studying engineering, geology, technical and non-fiction writing, and fine arts photography. As a teen he worked as a lumber handler in the family pattern lumber business, was a mobile home park service handyman, a roofing subcontractor, photographer, motorcycle shop owner, merchant seaman, filmmaker ('72 New York to Bermuda Multi-Hull race), construction superintendent, farmtown carpenter, and ran the lumber business. He is a boatbuilder, writer and environmental activist. He has three children and four grandchildren.
Hugh has been developing and building sailing canoes for more than two decades. The Bufflehead sailing canoe is his most advanced design - yet.
Hugh's Design
Essential information about the Bufflehead sailing canoe. Hugh wants you to know that before you contact him.
Hugh's Essays
New! A tribute to Jan and Meade Gougeon.
A very personal one. Hugh wrote: "It seemed all I was doing the summer of 2011 was... writing obituaries or tributes or memorials.
Stefan and Axel take their sailing canoes to the Frisian islands, the stage of the famous "Riddle of the Sands" by Erskine Childers.
An insight into individuals that excel in endurance races.
Hugh reports two events, one in May, the other in June 2015.
Karen and Hugh trailer Bufflehead to a new lagoon for another happy cruise.
A highly personal essay about finding priorities in life.
A happy weekend at Ron Sell's place with friends and pets.
A boat for adults learning to sail.
Hugh has moved to Cedar Key and is launching Bufflehead from Shell Mound in Lower Suwannee National Wildlife Refuge.
A cruise with friends, in their Stowaway 18.
Sailing with friends ... and a few days later, first ideas for what will become "Clam Girl".
Portraits of two remarkable EC finishers.
Tom buys a Kite dinghy and gets confidence on his first cruises.
Bobby Witt, a local waterman from Cedar Key, has enjoyed boating all his life. His Opti pram still gets much use...
The more I think about it, the more I am sure that taking your time "being away" is a prerequisite for keeping mental health, avoiding stress burnout and just unwind your senses. And small boating is a great way to be "away" for a couple of hours.
Tents! After a long cruising day, we sleep in your sailing canoes as well as in a cradle. A spirited article and different approaches for sleeping in a canoe and on shore.
One night under the blazing moon, a Conrad tale from the shallows of Indonesia leaves Hugh dreaming of a dinghy for the shoals around Cedar Key.
Whether it is a Conrad tale from the shallows of Indonesia - or Howard's new sailing experience in his sailing Canoe Sylph - it is all about an intimate connection between you, the wind and the water.
Hugh enjoys dinghy sailing - and decides upon improvements on his 10' dinghy Valencia.
Leeboards and kickup rudder for Valencia - and a lost oarlock.
Aurora is Ron Sell's 50:50 canoe, with a marconi cat rig and amazing carbon spars.
Sailing and paddling in Lower Suwannee National Wildlife Refuge. A small sailing canoe is the ideal craft for observing wildlife and poke around the coastline.
This is Hugh´s ticket to boatbuilder heaven, and for sure one of the most important part for canoe cruising. With a good seat, you won´t sail better... but you can sail longer, much longer. And this is one of the secrets of long-distance cruising.
Why we feel that small boat building will flourish over the next years.
Can an existing hull be used for canoe sailing? Hugh evaluates the ideal dimensions for rocker, beam and bow and stern sections.
In our size boats, wider is usually better.
A discussion of monohull vs multihull approaches. There is a lot of direct, personal experience in this article.
Hugh digs deep into sailing canoe history. He tracks development of suitable means of lateral resistance: from Rob Roy's inch-deep keel to Bufflehead's leeboard and mount. Hugh shows how this development -among other factors- improved the weatherliness of sailing canoes.
Capsizing a sailing canoe - Air bags - Reboarding - Installation of flotation gear - Bailing
Different types of flotation - Flotation trials - Accidents with open canoes
Great sailing canoe pictures
Links
Simon Lew has made a wonderful video at the last Cedar Keys boat festival, starring Hugh Horton in Bufflehead and Bill Ling in Aku. About 5 minutes of red-sailed canoe goodness. Prepare for the paparazzi.
Simon Lew has also blogged a good number of nice pictures of that event.
A detailed description of the Bufflehead sailing canoe and its components
Different types of sailing canoes - and different attitudes of canoe sailors
Hugh rationalizes the design requirements for his Serendipity sailing canoes.
The sailing canoe history and Hugh's history on the way to the Bufflehead.
A short review of the building method with pictures
Hugh shares with us how he got started sailing in canoes, talks about his trips and what it takes to build a sailing canoe. Also some history about these boats.
Hugh writes about John Guider´s trips in a small rowboat. John is a determined journeyer. Extract lots of advice on dinghy and canoe cruising out of that small story. At last I know why I strongly prefer boats which can be portaged to and from the shore by one person, over the shoulder. It may save a bad night...
Back to top