Tales of Multi-hullers
Wouldn't It Be Great?

Zur deutschen Version dieser Seite.
Originally published in Small Craft Advisor, Jan/Feb 2002, Issue No. 13
September 1990. The town dock on the edge of Puget Sound is in late day shadow. It's cool. Russell Brown's on his Prindle 16, stowing gear after our hurtling ride back across Port Townsend Bay. He hops on the dock, and looks like he's about to tell me something a little unpleasant.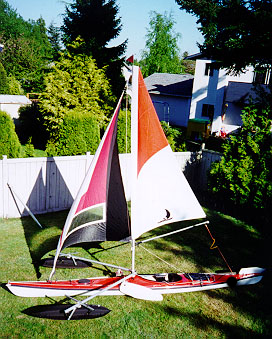 "Okay, Russell..., but I have to try." I'd been talking adding amas to kayak hulls for sailing. I mentioned it several times, but never got a ringing, "Yeah, that's great!" Or even a shrugging, "ummh...why not".
For years I'd been experimenting with sailing rigs on kayaks. I'd sailed on beach cats, Bill Schooley's paired hull, single outrigger Dragonfly, and many kayaks and canoes with a variety of modern windward rigs and others. I thought a paddling/sailing boat with an ama or two would be good.
They'd add stability and safety. You could use bigger sails and the waterline length of long kayak hulls---maybe occasionally go like a small beachcat.
Russell checked the Prindle's gear and lines, and gave me a wry look.
"Hugh...," big smile, "let's go eat."
* * *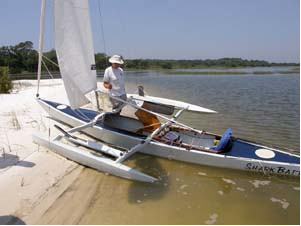 Russell is Jim and Joanna Brown's younger son. Jim is one of Multihull magazine's 25th Anniversary "Living Legend Designers." Russell designs and builds proas, and other boats (see WoodenBoat #83, and Cruising World, March '01). He's an artistic master of composite construction. Brother Steve and he grew up on the family's trimaran, Scrimshaw.
The winter of '90/'91 Russell built a little ama for Howard Rice and me. (Howard's the one-design fanatic and Klepper sailor/paddler some of you met last month.) The ama is five feet long, 80-90 lbs. displacement. It was an experiment for a Klepper Aerius II double, and is exquisite.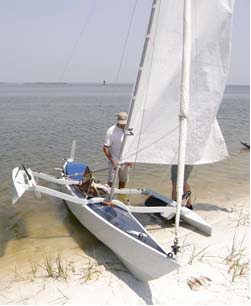 Spring, '91. The Clinton River near Detroit. 50s, cloudy, blustery, raw. Howard and I carry a 21 foot Northwest Kayaks Seascape 2, fifty yards to the water. Out the shop, around the old house, through and over a gate in a low fence, to the stout catwalk on the failing, wooden seawall. Whew! We've taken many kayaks and canoes this way. Holy complicated cow! With even a flyweight, simple five foot ama and single tube aka, the Seascape'd gotten unwieldy.
On Lake St. Clair the ice is gone---an illusion of warmth. We splash around at six or seven or so knots. Howard hikes to starboard or climbs out the pipe aka. I wonder how the ice has melted.
The 1st May weekend, '91. A few miles south of the mouth of the Suwanee River, Florida, the seventh Cedar Key Small Boat Meet. Sunny, 80s, SW 8-12, and close to 80 feet of sail on the Seascape. Ron Sell and I grin and watch the ama slide under the warm water like a dolphin, until the water hits my crude attachment. The ama glides under while its buoyancy works five and a half feet out from the centerline of the boat.
Wet. Who cares? But the Sea Pearl 21s---600 pound, open monohull cat ketches---still fly away to weather. With the ama we have more capsize resistance, but we're not faster than without it, nor when it's to weather. When paddling, too, we subconsciously heel her enough to lift the ama clear.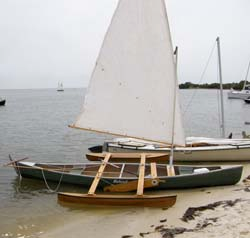 Longer, greater volume amas would be better yet for sailing, particularly if you're stuck in a small cockpit in the middle of your boat. For paddling or light air sailing, Russell's beauty gave as little drag as possible kissing the water and submersing---yet it is drag on the end of a lever. But it gave the stable 'not tippy' feeling of a multihull.
'93, Jim drew a little sailing/paddling trimaran for Wilderness Systems, and sent an early model. It looked like a kayak with amas. But the design evolved more to a sailing trimaran than a paddling boat, becoming the WindRider 16.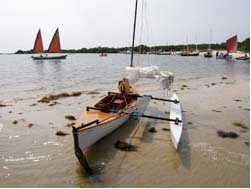 '96, summer, Lake Michigan. Rice and I reach down swells meeting shallows. He's in his 17 foot Klepper with short, fabric amas, and a rock in the bow seat. Puffin is 15 feet overall with 2/3rds the sail area of the Klepper. But our speeds were about equal. Howard's balloons cut anxiety, though, and he didn't capsize. What can I say? I was in little shore surf, turning into the trough, and shouting about dinner to Ron Sell on the beach, when....
'97, Cedar Key I sailed a WindRider 16 with plenty of wind. The year before I'd drifted around in one for a few minutes and had no fun paddling. With wind it was great, wet, and speedy. I couldn't trip it over the leeward ama.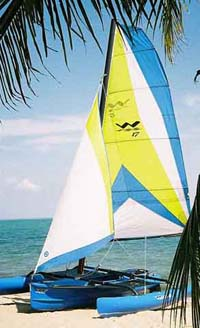 '98, Jim designs the WindRider 17 tandem/double with a stayed rig and lifting bow shape. She's become a more powerful sailer, he says, comfortable in seas offshore. But do you want to paddle her? Or put her on your roof? Can you carry her on your shoulder to the water, with rig and paddles in your other hand?
Now I know why, a decade ago, Russell sighed and changed the subject.
Amas on kayak hulls can offer:
A) safety because of resistance to capsizing
B) higher performance.
But B is more elusive as amas and rig shrink, or more costly to paddling and user friendliness as rig and amas grow.
Look at a group of experienced multihull sailors in Michigan. Four of them, and Howard, are getting sisters of Meade Gougeon's monohull cruising, sailing canoe, Serendipity.
Three own G32 cruising catamarans. One has a Tremolino. Two own trimarans that have dominated Great Lakes racing for thirty years, including Mackinac races, and are also featured in the "Multihulls" 25th Anniversary issue. A third owns a Kettering Tri-Foiler, and the same one has cruised Lake Huron's North Channel on a Laser. Three have sailed monos and multis to or on other continents. One has paddled flatwater competitively with single and double paddles. And they've had scads of beachcats. Over the years they've owned as many boats each, as any of my boathead friends. Now they want a good paddler/sailer, simple and cartoppable---and as capable as they are.
Look at Jim. At age 62, he drew and built his 1st monohull---Bottle Nose---a 14 foot by 28 inch innovative kayak/decked canoe with a simple upwind rig.
Remember, please, the obvious differences between sailing next to a friend in another boat along a friendly shore in warm water, half an hour from an organic sandwich/espresso shop, and sailing alone miles offshore, on cold briny. A wish to prevent capsizes is not unreasonable nor unseamanlike, particularly if one's boat is narrow enough for it to happen easily. As Howard emailed, "I can tell you many times I have longed for buoyant wings of some sort in my skinny craft...." From the smallest balloon amas to big ones, all resist capsizing. And, to some extent, so does a wider, fuller boat.
So, if we could have an instantly variable, inflatable ama/aka system, with high volume amas as long as the boat, shapely as art and science allow, which could shrink to a balloon on a stick sometimes, and anywhere in between, then simply disappear altogether half the time. Wouldn't it be great? And an inflatable rig, too, with better controls than, say, the fore and index digits of a bat, with a vapor flow tell-tale seeping at will from the leading edge/forefinger? Wouldn't that be great! And then....
* * *
October '01. Russell's back from a cruise to the Straits of Georgia between Vancouver Island and British Columbia. His proa, Jzerro, is in Australia.
"It was really cool. I was anchored and tied off while it blew in the Straits. I had my tent set on my Tornado. A bald eagle was flying around. An osprey flew right over the tent. I was thinking how fun Meade's little boat would be."
Back to top
Back to main page