Wet exits, Wider Boats, & Seamanship
In our size boats, wider is usually better

Zur deutschen Version dieser Seite.
Previously published in Small Craft Advisor, Nov/Dec 2001 Issue No. 12
Up near Lake Michigan's north tip, a big August moon is rising over broad sands. It silhouettes dense woods. Soft talk of safety and marketing. Don Collister, a life-long solo canoe paddler murmurs, "My 40 year old sister-in-law wants a fairly narrow kayak, but she doesn't like the water."
"So...why?"
"Because it's the thing to do."
Consumerism may be fine with some things, but this could drown her.
* * *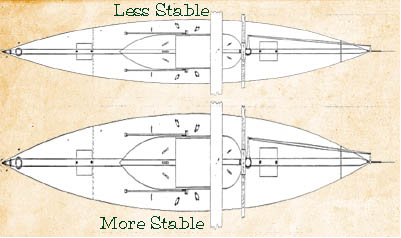 A week before, Howard Rice and I'd sat with morning coffee in Jan and Meade Gougeon's boat shed. They are the brothers of WEST System epoxy.
In this nook of the shed, pictures of 30 years of a boatbuilding force grace the walls: Golden Daisy, Slingshot, Rogue Wave; Russell Brown's proa, Jzero, Whitbread class winner Sabre, a Little American's Cup champ; Jan and Meade's Mac-race dominating trimarans, Adagio and Ollie, their world and North American champion DN ice boats, Meade's sailing canoe Serendipity, and many more.
Howard Rice read Robert Manry's Tinkerbelle when he was eleven. The thirteen and a half foot Old Town daysailer, with a deck and cabin by Manry, crossed in 78 days from Falmouth, Massachusetts to Falmouth, Cornwall. Howard had been gripped by small boats before Manry, and vice-gripped ever since. At eighteen he sailed his Cape Dory Typhoon from Newport, Rhode Island to the Bahamas. In a Klepper Aerius I with sails, he was the first solo kayaker around Cape Horn. He's a one-design devotee, teaches at the College of the Federated States of Micronesia, and has been paddling mostly narrow boats in Pohnpei the last three years.
"My neighbors on the beach," Meade said, putting down his coffee, "bought two skinny sea kayaks. They have the gear, look like people in magazines, and think they¹re safe." He held up his hands, "But they're not paddlers...and don't seem to have a boating background! When I flipped Serendipity in the Gulf I was lucky...."
"The water was warm," Jan nodded. "You have 50-55 years experience, a background of seamanship."
"And flotation," Howard said.
"Plenty," Meade's eyebrows lifted, "and a wide boat. But what chance do my neighbors have if they dump in 60 degree water, flotation or not?"
* * *
Salesmanship over seamanship? I looked through two issues of Paddler magazine and one Sea Kayaker.
2001 May/June Paddler is razzle dazzle marketing. Over 100 photos of white water and big water suitable for trained athletes. One image of more representative use is a full page photo behind the editorial of two kids, wearing PFDs, fishing from an open canoe. Old Town has a similar full page. Pygmy, Seda and others have smaller photos of quiet water boating. There's a fine shot of Pierre Trudeau, bereft of PFD.
None of Paddler's May/June table of contents and introductions has safety, seamanship, reentry, or anything like capsize prevention, avoiding breaking waves, hypothermia, or first aid. Its Canoeport Journal "Skills" department says, "Buoy Practice; the Skinny on Sculling; Canoe Games for the Water; and the Single-Blade Power Stroke."
The skill, training and athletic demands of whitewater are not emphasized. Nor that men and women sea kayakers, to prudently go offshore, must have seamanship in their bones.
John Dowd's pointed story, Teaching Judgment, in the July/August Paddler is the exception to their sales-first style.
Sea Kayaker was founded by Dowd in 1985. Safety is up front and danger not obscured. Every issue has much about safety, but now it's concerned most with narrow boats. To use them safely, the implication seems, a paddler must be a competent "roller."
Chris Cunningham's helpful editorial in the August 2001 Sea Kayaker is about rolling and preparedness--seamanship. Chris's editorial, too, shows why many prefer a wider boat; why we think a wider boat is often more seamanlike.
Chris wrote of a May afternoon at a lake "especially warm for this time of year." He had his "low-volume Greenland kayak built specially for rolling." But he was irked. He said more practice, stretching, yoga, and a chiropractor's "tune-up" would've helped. Biking and an elliptical trainer had kept him in shape, but tightened hamstrings had stiffened his back. "Last fall," he wrote, "I'd been in good rolling form, but I had definitely lost some ground over the winter."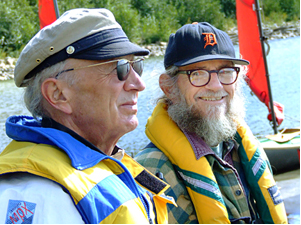 Think about potential capsizes in boats under two feet wide. How the simplest things like eating, bird watching, or chartwork can get anxious. Reorganizing gear underway is tricky, too. And you don't want unexpected lurches of your mass athwartships, like lunging for a wet hat, or yanking too well on stuff under deck.
Most of us are seldom trained to our peak, nor ready to perform there. Little things go wrong. We could be tired. For us a wider boat makes more sense. But, please, don't think a wider boat is all you need.
Think of the "what-ifs" of weather, currents, gear failure, capsizing. Know your boat's position and seaworthiness. React to conditions as they are, not what you expected them to be, or were hoping for. Safety is more than clothing and equipment in four-color advertising. It's Scouting's "Be prepared." It's the age-old teachings of seamanship.
* * *
Howard and I were crossing tacks on the Mystic River of Connecticut. A cool, June drizzle was quitting. We were sailing decked canoes Serendipity & Puffin (34 inches wide), weaving among intriguing boats at the Seaport's Small Craft Weekend. He and fiancee Keiko had flown in the afternoon before from Tokyo.
The water, I'd guess, was low to mid 60s. I was imagining capsizing as zephyrs filled in to a few meager gusts.
"Could these kayakers roll up?" I asked, half rhetorically.
"Not many." We were looking at mostly professional people and their kids, a microcosm of kayak use. "At least their boats are light. Most people can't roll a loaded kayak up more than a few times in conditions which capsized them in the first place---even in warm water."
"I'm sure you're right."
"Think of the people I've taught to paddle in the last 20 years, classes to guides, clients, symposia. Most people should be in wider boats, especially in cooler water."
Puffin heeled from a light push of air. I was staring through mist at the upper rigging of the full-rigged ship, Joseph Conrad, thinking of Lingard's brig and Indonesian warmth.
"Most capsizes are wet exits," he continued. "People need to know, after a wet exit it's more than just getting back in."
Howard meant "self-rescue." Being prepared for a capsize and expecting it.
"You need to practice," he said. "Do you want to struggle on a rolling log, or crawl onto a prepared platform?"
So, you might ask, would I have been ready for a capsize then? No, because I was risking a camera. But, yes, in spite of not wearing a dry or wet suit. Puffin is a familiar, wide boat, although I've not capsized her with this rig. She had all her bailing gear, and her full flotation of six airbags. I wore a PFD with a whistle, and many people capable of assisting were close.
* * *
Later in August, a college friend told of paddling with his cousin across a two mile wide Minnesota lake. My friend was in his cousin's year old kayak, 12'4" long, 27½" beam; no rudder. Cousin was in his new 13'9" inch by 20½" kayak with a rudder. Both wore PFDs.
Half way across, it blew strong from behind. A quarter mile to go--Cousin capsized. The boat blew away. He swam and waded ashore with his paddle. My college chum was ahead, although he'd paddled less than a half dozen times ever. He concentrated on steering the rudderless boat, and didn't know his cousin had fallen out.
* * *
Don has delicately suggested to his 40 year old sister-in-law, she'd probably be happier in a wider boat. Meade mentioned to his neighbors, until they've practiced reentries, they might not want to go out farther than the second sandbar. My buddy's cousin told me, "If there's any question about wind or waves, I take the wider boat."
Howard's in Micronesia again - and married to Keiko. They, and all of us, hope you'll offer a more realistic view to beginning boaters than do some of the sellers and marketers of narrow kayaks.
Back to top
Back to main page