'Old Faithful' of Cedar Key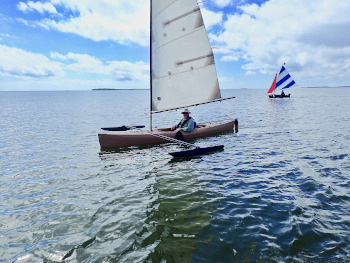 Sailing! Paddling! Socializing! In March, Ron Sell induced a half dozen of the Michigan Sailing Clubbers (ex-University of Michigan Sailing Club) to visit Cedar Key. They brought a 16 foot Wayfarer, a 15 foot Phoenix III, and paddling craft. They're experienced keel boaters, too. And, Ron had his ama-equipped sailing canoe.
The gloating glory for me is showing off Atsena Otie Key, our Old Faithful. In over a hundred tours through Atsena Otie in nearly 40 years, I've never thought, "Oh, crap! Not another time through Atsena." It's never the same. It's always persuasive, as sublime as Old Faithful geyser in Yellowstone, and as reliably enchanting.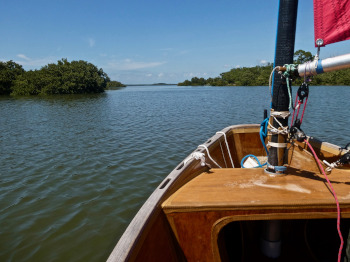 Atsena's channel-thru seems a piece of coastal time immemorial. The impression I've had is, while the islands of the Cedar Keys and Lower Suwannee National Wildlife Refuges are being eaten by sea level rise, a few islands and bars are gaining. Grassy and Derrick Keys are gone. McClamory is wasting, but Atsena is filling with oysters and mangroves.
Gliding or crunching through Atsena Otie, its history from the 1800's does not intrude. About 1843, Augustus Steele plotted a town on Atsena, then called Depot Key, after the army's base for the Second Seminole War, 1837-1842. One can imagine people just out of sight behind the trees, after 1861, working the cedar mills and cargo vessels moving cotton, timber and turpentine, to and from the railhead. The rails ended on what's now Dock Street in Town. People of Atsena fished, oystered, and turtled. They endured the Civil War, the blockade by the union army, and re-built after fires and hurricanes. But, the 1896 hurricane ended settlement and industry on old Depot Key. Now, the channel-thru is within the Cedar Keys NWR, and practically throbs with life of oyster bars and salt marsh.
Like Yellowstone's Old Faithful, timing is important. But here, tide times are not precise, nor are Old Faithful's eruptions, as you might know if you've waited for one. Because of Cedar Keys' extreme shallows, wind can affect the time of highs and lows, and drastically change the amount of water for fish, birds and us.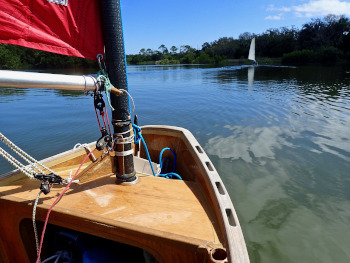 You won't hear pre-eruption gurgling and splashing of sulfurous water, but you might hear a mullet's splash, Clapper Rails, or Boat-tailed Grackles. Each ride through Atsena is unlike any other, as each geyser eruption is different across hours and seasons. Instead of a crowd's "oohs and aahs," in Atsena you'll likely hear only your crew or yourself.
This year my first time was in March, paddling. A week later Clam Girl sailed through on three consecutive days, each with different crew, from southwest to northeast, catching the end of the flood.
Rather than her Phoenix III, Sibylle, Diana Amistead rode in Clam Girl. She steered through the just-wideenough missing section of the 1990s abandoned dock - the gap that's too narrow for Ron's canoe.
"The little island with its odd name... so many sandy shores," while inside was "a secret world. Like walking on a broad meadow, and suddenly you're in a thick grove."
Fresh water sailor Jeanne Bisanz and I repeated the next day. She, too, took the helm through the dock's gap. Again, I steered into the bumpy-crunch channelthru's entrance to "serenity," as Jeanne put it.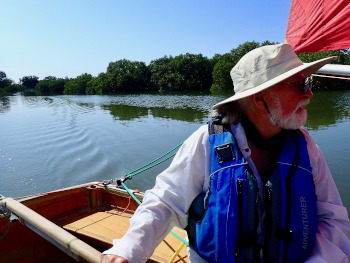 Dennis Moran came the third day. He usually motors and sails under the scrounged and colorful rig for his 12.5 foot Porta-bote, his aluminum canoe, or his eight foot Puddle Duck Racer. For Dennis's first time through without using an engine, he helmed Clam Girl.
"Over there," I pointed, "was a small inner cut. It disappeared a dozen years ago."
A few days before Clam Girl's Atsena rides, Charlie Scott and Jeanne had sailed the Club's Wayfarer into Snake Key's west lagoon. Later in the day, Jeanne and Diana sailed the Wayfarer to Snake again. Jeanne was mesmerized by the "blissful" lagoon and the loudness of the rookery - "a special reward for small boat sailors." Both times they looked out east, through Snake's cut, but didn't try it.
"Did the cut look unnaturally straight?" I asked.
"Everyone," Jeanne said, "remarked about it, the straightness."
An 1851 survey from Cedar Key to Crystal River shows the shape of Snake Key distinctly different, to me, from 1861 and thereafter.
Before the Civil War, Snake Key was said to be a quarantine destination for patients with "yellow fever, scarlet fever, mumps, measles and cholera." Was the cut access to facilities? Was it military?
Why is Snake's cut so straight? My coastal geomorphological curiosity can't quit now. You'd wonder, too.
~HH
Thank you to the Cedar Key Historical Society.
Back to top
Back to main page