Cedar Key 2022 Windy Boat Meet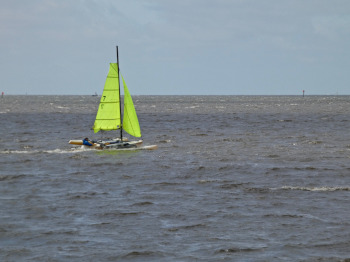 Thursday, before the May boat meet, a 16-19 knot southwesterly blew straight on the ten foot bluff at the end of 6th Street. An hour past noon, Bruce Matlack's reefed WindRider sliced and crashed along, blasting spray on Daughtry Bay. Ida Little, Karen and I stood in the wind, while below us, the flood was coming into the shore of muck, oysters, and sand. Ten foot Clam Girl was nestled in mangroves, her black mast above them. We didn't sail.
Karen had come back to Florida April 20th. The next day, Thursday, we rolled Clam Girl on four inch PVC pipes, down the 6th Street beach. In the three weeks Karen was here, CG went down and up eleven more times.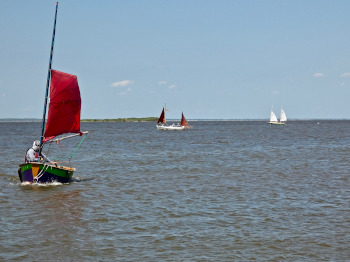 That first day we tacked out double reefed in the 12-15 knot easterly, crossing the Main Ship Channel, eyeballing the east bound flood, which is half of Cedar Key's virtual two-way river at the Town Dock.
Wednesday the 27th we wanted to sail through "Old Faithful" - Atsena Otie Key's Channel-thru, or "Passthru." (see SCA #136). Over the years, oysters have filled in, so we want high water to get through. But, the light southerly thwarted us.
Thursday we tried again for the Pass-thru, two reefs for an easterly 11-17. We zipped across the flooding Main channel so quickly we said let's go to Snake Key - we'll have time for the Pass-thru.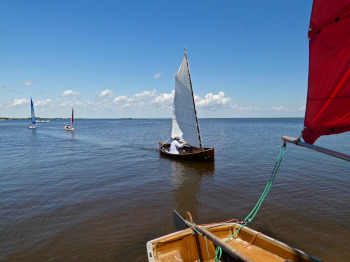 What had been frisky sailing continued south past Atsena. Half way to Snake, the easterly, with miles of fetch, stood the flood up on faster current squeezed by the channel between the two keys. Three to four foot waves crisscrossed, broke, and tumbled. Concern was for dry and safe, not speed. There was plenty of wind, though, to dodge seas, head into them, or scoot away. Steering reminded me of sailing a monohull canoe. Karen even claimed I'd, "yelled," "Pay attention!"
From Snake Key's west end, she called Ida, fishing with Karen's brother, Bill, in his powerboat in the lee of Seahorse Key, "Just to let you know where we are."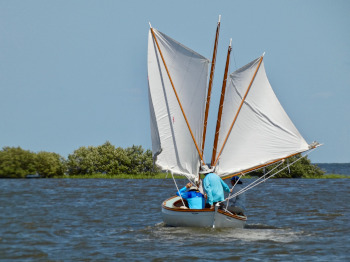 Returning to Atsena, we arced west, up current, further off the wind. We could head up and not get pulled too far east, so the return was relaxed. Karen called Ida, "We're okay." The continuing strength of the easterly, though, nixed our Pass-thru ride.
Friday, third try, the 12 knot easterly faded to 5 southerly, so no Pass-thru, but fine sailing.
Saturday, the fourth try. Huzzah! In an easing, veering southeasterly to southerly, single reef to full sail, we ferried broad off against the flood, and snacked on the beach at Atsena's southwest entrance. Just inside, we heard a distant, staccato call of a Clapper Rail. Moments later, a boat length from the marsh, another rail clattered madly before its clap-clap-clap faded away. I wanted to applaud them, maybe incite them to clattering. Who's training whom?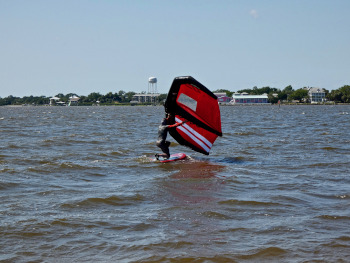 Wind for the boat meet Friday was southwest 12-18; double reef. We sailors that launched reveled, including Charlie Matlack with his inflatable board, hard foils and kite sail brought in a backpack from Puget Sound. Oysters neither grazed nor fazed him, but the sandbar off Atsena sent just him "flying."
Late Saturday afternoon before the Community Center dinner, wind was westerly 12-16 on Atsena's north beach. In the first hundred feet or so, watching red marker #36 straight out, I was relieved. We were making it. I looked away, then looked back for the marker, and was startled to see it far to windward. The flood was whisking us east and we wouldn't make Daughtry Bay.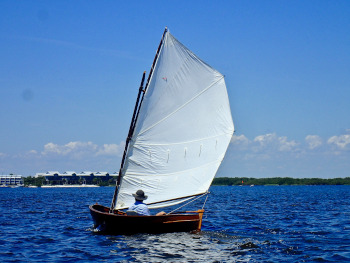 On the wind, we aimed for the Island Place and seemed to be doing well, ferrying fast. Nope. CG's 16 foot mast was being swept suddenly, it seemed, toward the Town Dock's ten foot clearance, draped with fishing lines. "Gybe ho!" I blurted. We did and fled. In a couple minutes, another gybe - this time with "prepare to gybe" - and we flitted into Fenimore Mill's beach. Karen said the gybes impressed her, no doubt because the boom was well above our heads.
For Karen's 80th birthday, Tuesday, Lewandowskis took us for a lovely ride on Firefly, their F31 trimaran. We lunched while tacking up the channel that had thrilled us two weeks before.
As the heat index increased to over a hundred, the struggle multiplied to haul Clam Girl up the beach. Afternoon sun on the shore was brutal; summer could Afternoon sun on the shore was brutal; summer could compel one to strive to land at the very top of the tide.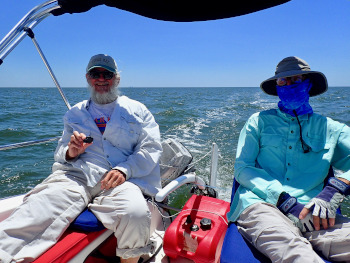 We sailed two more delightful days, slogging the current and warm wind. At high tide, we plowed through spiky, resentful mangroves, as far up the beach as we could.
~HH
Back to top
Back to main page