Life -- Dinghies, a Skiff, & "Octo"
Back in Cedar Key the evening of August 11th, 2022, I unpacked and mumbled at meow-muttering cat Fuzzknuckle, telling him of Karen's and my trip to Michigan.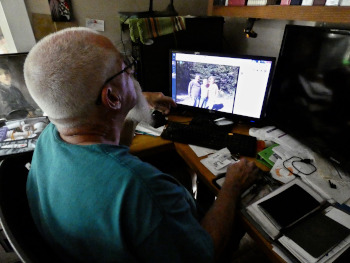 But, an alarming email came from Bill Ling across the state, then a horrible one. Later, after two AM, Nancy Ling, his wife of almost fifty years, passed away. Their great granddaughter, Skylar Raye, was born within the hour in upstate New York. The families would take a few days to get to Florida, so I called the cat sitter and drove to New Smyrna Beach.
Nancy's death staggered us, all her friends. Readers might know Bill, and his red canoe Aku, with its red gunter rig. Nancy was 68, an ICU nurse as was my wife Kayann.
By 2012 I'd long been captivated by the shape of Bruce Kirby's Trinka 12. A bare hull came available; Bill brought it to Cedar Key. The hull's been right side up since, protected from weather, and subject of a thousand ogles. I'd not sailed one, and had imagined finishing the hull as a leeboarder, a partially decked cat yawl. Kirby sent full size plans; I sketched and pondered.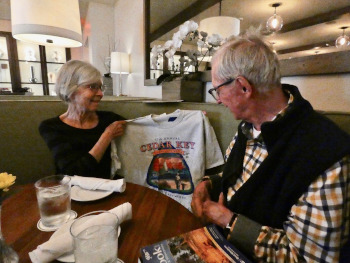 In 2013 I drew Clam Girl for daysailing the Cedar Keys. And, with more than a little help from JF Bedard, Simon Lewandowski and Bill, Karen and I built her in 2017. The Trinka 12's hull continued in my imagination as the dinghy cruiser for Florida's west coast.
August 2nd, 2022, Karen and I flew to Detroit and drove north to Traverse City, to lunch with her senior cousin, and deliver a CK boat meet shirt. We drove further north, over the Straits of Mackinac to the Upper Peninsula, and Kay Stremler (Kesmi) and Ron Sell's Rocky Point. Their exquisite spot juts gently into Munuscong Bay-Lake, the bulge in the St Marys River, the border between Canada and the U.S.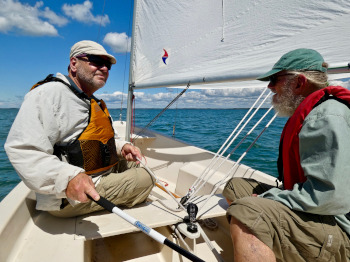 As Ron was uncovering their Trinka 12, I suggested we - Becky Prepejchal, Karen and I, Kesmi and Ron - sail her. Kesmi frowned with a 'not likely' look. When Karen and I scrambled into the Trinka, I understood. Ron walked us to deeper water, hauled himself over the sheer, and took the helm. We tacked out of the shallow cove in light air; I tended the daggerboard. Returning from near the shipping channel, we traded duties. The tiller was light. Trinka slipped along beautifully into a 7-10 knot westerly, with barely droplets of splash over the starboard bow.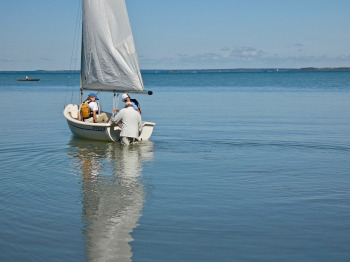 Clam Girl easily carries four, so it appeared five or six would fit in the Trinka. But, the mid-boom sheet to the thwart, attached to the daggerboard trunk, and the powerful vang, make it awkward for more than three people. I haven't seen a photo of a Trinka 12 with more than two sailing.
Although I'd studied the hull and conjectured a hundred times, reality surprised me. I'd not expected to feel so plainly the buoyancy differences between CG and the Trinka - the powerful chine of a flat bottom versus a round bilge, even if the Trinka is a foot beamier at five and a half feet, and a foot and a half longer. Trinka has a fast bow and forward sections. CG does not, but I love the stability for standing at the mast and leaning around it.
Later, while Kesmi and Becky moved in the Trinka in the lee, I watched her waterline. Buoyancy distribution was clear. The Trinka 12's tall, stayed aluminum mast, far forward, accentuated any rolly tendency.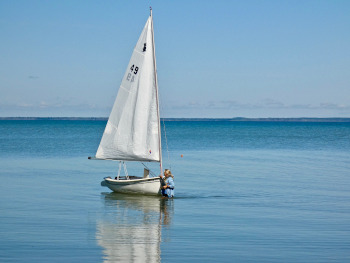 Emergency room physician Becky, an experienced sailor, soloed the Trinka. During a series of gybes, she shipped water when the hiking stick jammed against the transom. A bee stung her hand and the sheet wrapped her foot giving another wobbling roll - but no water aboard. "I was sailing sloppily and needed to head in but didn't duck enough... my scalp laceration continues to heal."
August 14, Bill and I strolled around their lush, well tended property, our eyes teary, some sobs. We came to a riveted aluminum skiff, bottom up on a trailer behind sheds. A Grumman "Camper Sailer," from about 1970, thirteen feet by five feet with a pair of extruded, inch deep, 3/4 length bilge runners. Rocker was two inches at the bow and one and a half inches at the transom. The Camper Sailer could be ideal for one person, two, or a couple and a child. Stable, sailable, rowable, amenable to a small outboard not meant, necessarily, for planing. Heavy gauge aluminum - a hundred thirty pounds - with good freeboard and flotation beneath the seats. We were cheered and smiling, then quietly wandered away.
~HH
Back to top
Back to main page