Fly a Kite!
~~~ Tom did
"Kite dinghy?" Ron Sell emailed. "One's for sale online." "Don't know it," I e'd back.
She was lovely in the photos. Her 1962 shape, eleven feet seven inches by five feet, reminded me of the 1988 Trinka 12's twelve feet three inches by five feet three inches. The Kite's bow knuckle is prettier, less aggressive, but costs a couple inches or so of waterline length to overall length.
Sell wanted her; but too far from Michigan. I mentioned the Kite to Tom Greenway. She looked good in spite of the nuisance dagger board. With a change to a kickup rudder, she'd be fine on St Andrews Bay, Panama City Florida, where Tom and wife Shan live.
The Kite - probably over twelve hundred built - was considered a trainer for the Olympic class "Finn." Her free standing rig's mast is nineteen feet and bendy; sail area is seventy eight square feet. The Finn's mast is twenty one feet seven inches with a hundred fourteen feet of sail. The Finn is nearly three feet longer but two inches narrower.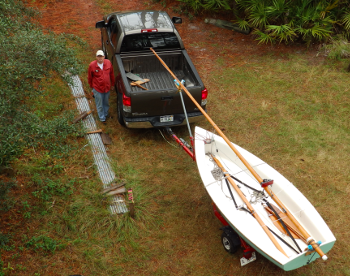 Tom had been looking for a boat because he knew my ten foot Clam Girls were delayed. He has broad boating experience but had been uncomfortable sailing by himself. In Cedar Key in 2013, I'd hooked him up with a "Minifish" Sunfish which had abused him. Ever self-effacing, he'd said, "Hugh's tried to teach me to sail for thirty-nine years."
On Friday, November 7th 2014 Tom drove his Kite to Cedar Key. The trailer and boat looked tiny behind the big pickup - maybe too tiny for Tom's six feet and two hundred thirty pounds. I'd told him the Kite's size was good, but she looked like a stunted Laser. He was smitten, though, his boyish grin beamed between dimples.
As it was, the manufacturer had written, "An ideal sailing dinghy for a couple. ...If you are thinking of a boat for yourself and your family... try the Kite."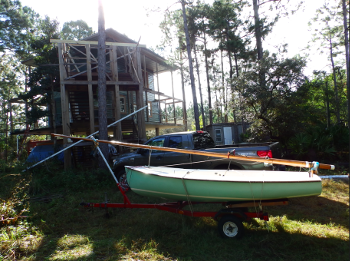 Woodstock is her original name. Besides her shapeliness, she is relatively unobstructed inside. Her spars are finely built of aircraft quality Sitka spruce. The mast is tapered, rotates, and is grooved for a bolt rope. Her sail goes slickly up and down, quashing fears of sticky setting and striking.
Saturday the 8th from dawn till noon, the tide at the Shell Mound in the Lower Suwannee National Wildlife Refuge was too low, for even canoes and kayaks. At two thirty in a heavy, darkening overcast, low sixties, northeast four to seven knots, Tom struggled, wet to his knees, to affix the two foot deep rudder.
He had the helm while I tended the sheet and daggerboard. We pointed up around Python Point and effortlessly fell off west across the sound, the transom hissing with a soft gurgle in spite of our combined over four hundred pounds. The daggerboard touched often - once slamming us forward.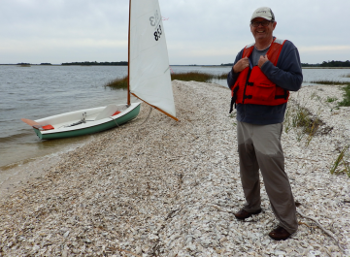 Later, we landed with a nice crunch on a steep, oyster shell beach, the bow touching as the rudder did. The tall rig had felt great, its low mass and windage aloft compensating for its height. The sail's clean, pointed shape reminded me of a soaring raptor here, the Swallowtail Kite, with wings like a swallow's, too. As we admired Woodstock, three Bald Eagles flew by on broad wing tips, two cavorting talon-to-talon.
Close reaching to the Point, we easily beat the current rippling against us. At the launch beach Tom clambered out when the rudder bounced thirty feet from shore.
We talked about Rudder Craft's kick-up rudders. "It's a little like switching," I'd said, "from a relic manual transmission before synchronizers, to a modern automatic transmission."
Tom emailed the next Sunday evening, "Sailing today by myself. Maybe ten knot wind; incoming tide. Ran 1.5 miles along the coast. Tried tacking and got back to my launch spot. Went out again on a run but farther from shore. Two dolphins swam next to me."
More tacking and reaching, then, "Accidental gybe - leg cramp - hiking stick jammed - panic - sharp heel - looking at water coming in - 'I'm going in!' - calm - straighten rudder - pull in sheet - rub leg - back on track and slowly sailed back to the launch point." He realized the gybe itself was easy with the boom well above his head, and the vang controlling boom lift to prevent a flailing bag of windage. "Starting to get the hang of things - boat is very forgiving." St Andrews Bay is't as shoal as Cedar Key, so no kickup rudder yet.
Now, with confidence up, he's eyeing a Com-Pac Picnic Cat 14 for carrying family. It has a centerboard and kickup rudder - the hull drawing only six inches.
If a dinghy enthusiast tells you, "Go fly a Kite" - do it.
~HH
Back to top
Back to main page