Motion Marian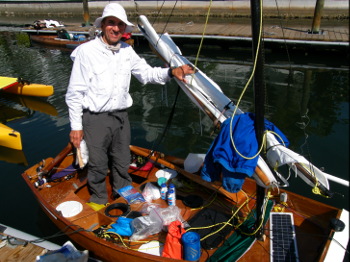 "Row all day all night." In Key Largo, Marian Buszko's Polish accented voice was flat. That was 2013. It was 5:30 AM, Saturday March 9th at the end of the 300 mile Everglades Challenge. He'd taken six days, 22 hours and 12 minutes, rowing most of the time, averaging almost three knots.
I'd met Marian on the Tampa Bay beach a day before the start. His CLC pram Rocking Baby was, I believe, the shortest boat of ninety or so small craft along Fort DeSoto Beach. He was buoyant with a continuous smile, hoping to make the first checkpoint, 70 miles south. 'Curious fellow,' I'd thought.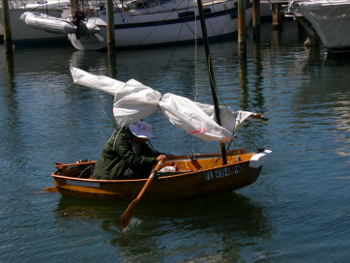 After the finish of the EC, Marian had kept rowing and occasionally sailing Rocking Baby from Key Largo to St Augustine, three hundred fifty more miles up Florida's east coast. He told of "immense beauty... at the time the EC was the best eight days of my life."
Striking to me, was that he could happily, mostly row, over 600 miles on a waterline of under 8 feet.
In Poland before grade school, he started making paper models. It's rumored Josef Conrad's ghost whispered to Marian in their native Polish, "Make a model first." Since June this year, his three foot long foam boats have churned his Gainesville neighborhood pond, driven by electric model airplane power. One model led to 7 foot 9 inch Humpty Dumpty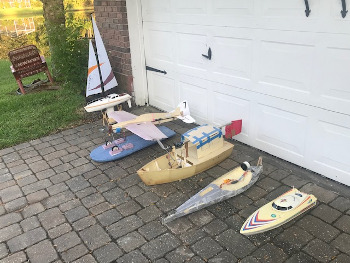 Marian's a physicist, an academician. His business makes electrical impulse generators, so he's disposed to electrical stuff.
In 2014, after I'd converted Rocking Baby to Rocking Toddler, by extending her ends as fairly as I could to 11 feet LOA, he tried a Minn Kota motor, and later gave it to me.
The next year Marian bought a CLC Skerry, and began adapting her to become Dobra Pagoda.
He built a steering wheel controlled, hydraulic system, to avoid the single stick arrangement that came with the Skerry-like half a steering system for our sailing canoes. His Torqeedo was mounted to the rudder stock, and could pivot up clear of flat water.
To practice 50 miles in a day - a good day's run in the EC - he trailered Dobra Pagoda to Cedar Key on a steamy August afternoon in 2015.
From nearby Atsena Otie Key, as the tide turned before dark, he reached down coast with a moderate westerly, making his 25 miles, and anchoring before dawn among the St Martins Keys. In the morning he emailed, "Hugh, it was beautiful! How can we not do boating?"
His return was wet, close hauled port tack with his new sail, aided a tenth of the time by his Torqeedo. In twenty two hours he made his fifty miles. His phone call bubbled exuberance, "It was incredible. Wonderful!"
In the 2017 EC, from the Boca Grande Island bridge Karen and I watched Dobra Pagoda sail merrily toward Charlotte Harbor with jib, reefed main and reefed mizzen.
Crossing the big Harbor, seas and chop came in Boca Grande Pass, concerning and troubling EC boats. Dobra Pagoda was swamped. But, sensibly, two weeks before he'd capsize tested her fully loaded, weighing over 700 pounds, at least 250 over her "payload displacement." She floated high enough so the top of the dagger board trunk could drain.
He fell off the wind to a beach, collected himself, and then Torqeedo motored, following, Marian believed, a providentially provided kayaker.
His auto helm controlled his hydraulic steering, so he steered by pushing buttons - freeing him from manual steering. But, an unreliable, mechanical connection between auto helm and short tiller dogged him.
Off East Cape Sable on the third day he wrote, "Dobra Pagoda can't tack with my sail and steering." He ran ashore. He was dejected by his third steering "failure," but effused about "the solitude and beauty."
Back in Cedar Key sailing Rocking Toddler, he could only do 3.5 knots in a 15 knot wind. Planing danced in his mind.
He bought a 17 footer, a look-alike O'Day Daysailer, named her Tortuga, and clamped on a 15 HP outboard. A one inch gap opened soon at her transom; he had it strengthened and glassed back together.
In 2018 Rocking Toddler became Rocking Core with a broadened, flat stern and pointed bow. With just him aboard, a 6HP Yamaha planed Core easily.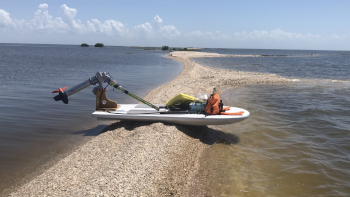 Earlier this year, he'd been intent on making a much lighter version of Rocking Core, using her as a male mold. Recently he asked about a half size version of Clam Girl for a granddaughter, and mentioned he wanted to get out again in his light and lean 20 foot, single ama, OC1 ocean canoe.
Short planing boat or long displacement shape? The fastest "dancing electrons" in physics esoterica, apparently, are slower. And, like Marian. unceasing.
~HH
Back to top
Back to main page