Summer Wind over Daughtry Bayou
~~~ Bufflehead's crew cart to a new lagoon
Monday afternoon, 28 July 2014, the wind flew at us from the west across the Bayou's half mile of shallows. It swizzled tree tops on the far side of Daughtry, and flung wavelets on the beach and spray on the bottom of a cabbage palm at G and Fourth Streets in Cedar Key.
This was a rare summer breeze --- an inhale and grin breeze. It was a swig of happiness in spite of the mid seventies dewpoint; a toke of wind chill although ninety in the shade. It wasn't a slam bam squall, nor a heavy tropical weather system. It was steady, had grown a couple days, and was more than Karen had seen from sailing canoe Bufflehead.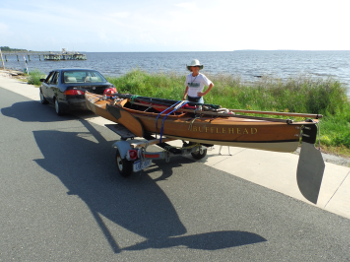 We waded in calf deep after stashing the old cart --- first time we'd used it --- behind the palm. Water temperature was mid eighties. I let go the rudder uphaul. Karen hopped in, scooched her seat forward, and I handed her the single blade deck paddle. As I stepped in balancing, Bufflehead surged ahead.
"Whoa!" I chuckled --- I 'd been expecting a couple easy strokes, "How about a little down leeboard?"
Karen was in Cedar Key only a week. The higher high tide was early to mid afternoon --- perfect --- but Thursday and Friday we worked at the 347 House out of Town.
One forecast for the weekend had wind in the teens; another said more usual sultry summer, southwesterly five plus or minus a knot or two.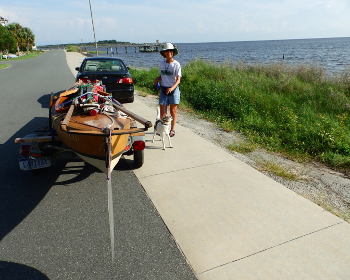 Saturday, as the northwesterly grew to seven to nine, we dog-sat at her brother's on the hill in Town. We lamented we weren't sailing. "Could've been half way to Crystal River."
Noon Sunday, trees were swaying. We brought Bufflehead back from the 347 House. Sunday evening we rolled her ten yards, loaded, from the trailer to the beach.
Monday, predawn vivid lightning and violent thunder for most of an hour. We had a yelping-howling little pooch, an inch of rain, and wind-toppled, potted peppers. Then calm through nine AM. By noon, twelve to eighteen knots onshore whipped palm fronds, old pines and live oaks on the hill. Karen watched awhile, "...what is the capsize routine?"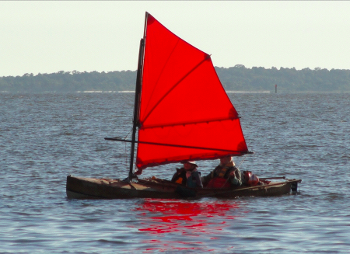 Bobbing and footing off the beach at G and Fourth, I steered starboard tack a moment and sat down.
We pointed thirty yards or so southwest, and I nixed a rollicking sail across the Channel to Atsena Otie Key. Instead, we tacked northwest through the chop, slipping along without much spray.
Karen was smiling, as if she were surprised to be so relaxed, "...like a passenger on a birding tour." She cleared lines, checked mast rotation, and slid her seat where it should be. Usually, she's sailing off a summer mooring at the helm of her twenty two foot, ballasted Ensign. I was beaming. The lee along Daughtry's shore wanted a closer look.
Near the closed north end of the Bayou's back-channel, the leeboard bounced a few times, but, no clinking from the rudder. Agitated treetops reminded us of the wind that had scooted us up here close hauled. I'd thought to turn south behind oyster bars, but because of the quite high tide, narrow channels opened northwest into a lagoon new to me.
Karen was, "surprised it existed... so quiet, and couldn't believe we were going in with such ease, very little scraping. Brilliant green Black needle rush was at eye level. An osprey beyond looked legless, standing on something at the water's surface. I was lulled by ripples off our bow --- until jolted by the leeboard whacking oysters."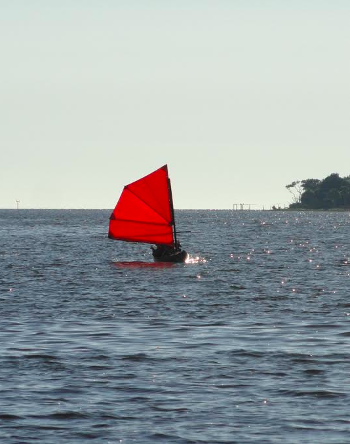 We glided past a couple homes of clammers and their workboats. One place had "a trim lawn, strip of beach, chairs and a small table." And a "great, ancient cedar, healthy green, beautifully formed spreading low, roots partly submerged in extra high tide. Gentle gybes got us out."
Going back was too quick, like snapping out of a good dream. Southeast around the outer oyster bars, gybe in a lull just out of the lee, reach off, but still some feathering. Not full throttle --- just one little blast. Tacked around rather than gybing at the north end of Daughtry.
Feathered and crabbed south past Goose Cove before falling off and running up the beach, past the foot high shore chop. Yanked the rudder up.
Karen, "We ran crunching up the beach missing culvert on left, chunk of concrete on right; gunter sail streaming over the bow. Scrambled out on sand by the cabbage palm and our cart. Wet, happy, cocktail hour coming."
We toasted the wind and Bufflehead, and should've toasted the cart, too. And maybe ourselves for finally showing a hint of septuagenarian sense to use it.
~HH
Back to top
Back to main page