Flotation for Narrow Boats --- Stability after Capsize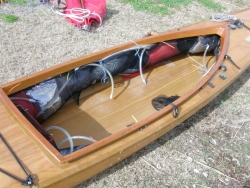 Pat Ball and I wanted to test new flotation in our sailing canoes. We beached our Buffleheads, NoETA and Bufflehead, Atsena Otie Key early Friday afternoon, 29 January 2010. It wasn't clean science---we stayed dry and capsized our boats a couple yards from shore---but we learned.
NoETA's new setup was the hard style with bulkheads four feet from each stem, and foam, four inches square, glassed inside along each sheer, nearly seven feet between the bulkheads. Bufflehead's was inflatable bags held by nylon mesh.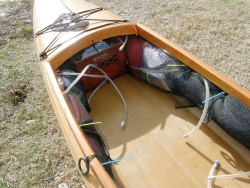 The week before in Cedar Key I'd cut and fitted the mesh netting. It drops inside, under the cockpit coaming, down to the boat's bottom and forward of the mast, attaching to a couple dozen soft loops. Where the seat sits and moves, the space is six inches wider. Behind the curtain I stuffed bladders from boxed wine, and conventional canoe and kayak air bags.
In 1999 Jim Brown showed me his Bottle Nose sailing canoe and her shiny, reflective flotation bags. They're incredibly tough. This year he joked about "a video of getting one tire of your truck up on one, if you can get it there." I told him of the mice who'd gnawed and likely drunk a few drops from four of mine that'd been stored deflated for years. The lesson is rinse them out and check.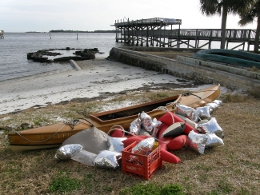 With half deflated canoe bags, I jammed in more small bags and shrank the spaces between by re-inflating the big ones. For cruising, interchange air bags with dry (gear) bags as needed.
Early Friday Pat had driven up from Sarasota. We breakfasted and waited for the tide. Well after noon, on an east southeasterly one to four knots, we crabbed across the flood the half mile to Atsena. On the beach Pat rolled up his pant legs. It was in the 60s and sunny.
I'd been expecting a wet re-entry session in chilly water, but Pat was thinking just to pull the masts over until the hulls filled, then climb in or on from calf deep water and observe. Flooded but easily bailable, semi-swamped, or swamped? The goal for our boats after a capsize is they should be stable enough, or close to it, to paddle or 'sail away' like a Laser or Sunfish.
While we tested our Buffleheads, we noticed an aluminum canoe crossing the Channel back to Town. The young men paddling were sitting high and not wearing PFDs. I wondered if they knew the flood was taking them east faster than they could swim.
NoETA floated on her side, her mast helping while Pat straddled her upper edge. The bow was five to six inches out; the stern stem was level with the water. He righted her and sat up on the aft coaming. About seven inches of water was in the boat, a fraction of an inch onto the foam. He was happy.
Bufflehead with Pat on her edge floated with the bow six or seven inches out; the stern clear by three inches. There was about five inches of water in her and Pat stood easily. Wide grins on us both. Her side air bags---which extend down four inches lower than Pat's foam---reduced free surface effect and initial rolliness sooner.
"I think for my grandson Marcus," Pat said. "I'll put in flotation shaped more like yours. Other than taking up space, and adding a little weight, everything it does is good."
Pat and I light-aired through Atsena, and ghosted south into a calm under high cloud patterns on the move. We mostly paddled two miles back against the ebb. The blithe spirits in the aluminum canoe crossing the Channel made it. Again I thought of Miss Dot's family.
Miss Dot's Country Store is in a one car sized shed, shadowed by pines. She's salt-of-the-earth, a tall, lean, strikingly lovely eighty year old who cares for her eighty four year old husband, a native Cedar Key waterman recovering from a broken hip. I hadn't seen her for months and she smiled a welcome. A glass jar with a few dollars and change was on the counter with a note. "My son's stepson," she said. The twenty three year old had not come back, nor his twenty eight year old cousin, from a short, mid day, open canoe ride in December on the Tensaw River.
"On the edge of Mobile Bay," she looked up. "It was windy, misty rain. They'd set off hunting... life jackets were on the dock. They found the canoe with their guns and all."
Before Pat drove south in the rain Saturday morning, we agreed we'd met our expectations, so far, but can't wait to test more in warm water.
Back to top
Back to main page