In Boat Love
Originally published in SCA, July 2006
What does a novella---obscure compared to his other works---begun in 1896, laid aside by its iconic author then finished in 1919, have to do with us?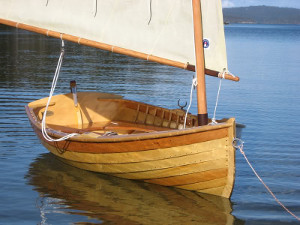 "In that little boat," Joseph Conrad wrote, "Lingard was accustomed to traverse the Shallows alone. She had a short mast and a lug-sail, carried two easily, floated in a few inches of water. In her he was independent of crew, and, if the wind failed, could make his way with a pair of sculls taking short cuts over shoal places. There were so many islets and sandbanks that in case of sudden bad weather there was always a lee to be found, and when he wished to land he could pull her up a beach, striding ahead, painter in hand, like a giant child dragging a toy boat."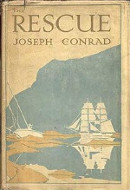 The Rescue: A Romance of the Shallows is my favorite Conrad tale, partially because protagonist Tom Lingard is my favorite cartopper in literature. He is the master of a small brig off the southwest coast of Borneo in the mid 1850s.
"Once, when caught by a sudden freshening of the sea-breeze, he had waded up a shelving bank carrying her on his head and for two days they had rested together on the sand, while around them the shallow waters raged lividly, and across three miles of foam the brig would time after time dissolve in the mist and re-appear distinct, nodding her tall spars... ."
Lingard's heart is held by the dinghy's mothership, his brig Lightning. To Lingard, his brig "represented a run of luck on the Victorian gold fields; his sagacious moderation; long days of planning, of loving care in building; the great joy of his youth, the incomparable freedom of the seas; a perfect because a wandering home; his independence, his love---and his anxiety."
* * *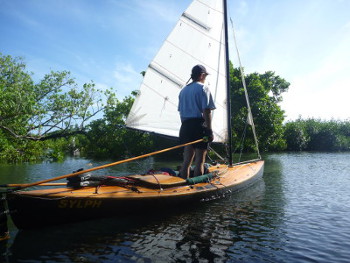 Howard Rice was in Michigan for his summer vacation from Micronesia. Sylph and my wife's Walela, sailing canoe sisterships, were with us on Brevort Lake near the Straits of Mackinac, where Lake Huron meets Lake Michigan. Sylph was finally set up as Howard intended three years before, when he began building her deck on the Serendipity sisters' deck plug. Puzzling to me, rather than beach his boat, he'd anchored her off a smooth cobble beach, seeming to fear scraping or bruising her fair and beguiling bottom on flat, rounded stones, laid flat by waves, and covered with thin, slick moss. He was treating his lightly loaded, tough and strong, eminently beachable-on-anything canoe, as though it were a fully laden, skin-on-frame boat among razor-edged oysters.
We climbed a sand dune on Brevort's shore. Gazing over the seven mile long blue lake with its dark green margin and slivers of beach, he talked about a new feeling for sailing. A change. Eyes opened. Back at our camp he kept at it.
I thought, 'What is he talking about? He's sailed every boat within reach most of his life, and he's put himself next to many good boats and even better water.' Howard has, besides kayaks, Rhodes' Robin dinghies, Mirror dinghies, Klepper folding boats, a pair of Tremolino trimarans, an International 110, a Gryphon, a Hobie 14, a Redwing dinghy, etc.
He rambled on about "opening a door to a world of sailing," as though he were a new sailor. Whatever it was, his sailing universe had changed and he'd felt it.
* * *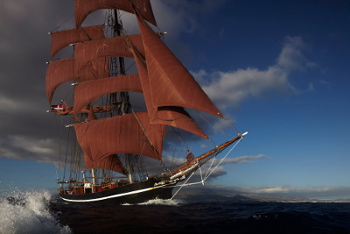 "(Lingard) had often heard men say that Tom Lingard cared for nothing on earth but for his brig---and in his thoughts he would smilingly correct the statement by adding that he cared for nothing living but the brig.
"To him (Lightning) was as full of life as the great world. He felt her live in every motion, in every roll, in every sway of her tapering masts... . To him she was always precious---like old love; always desirable---like a strange woman; always tender---like a mother; always faithful---like the favourite daughter of a man's heart.
"Lingard's love for his brig was a man's love... . She was his perfect world full of trustful joy."
* * *
'What's he doing now?' I thought. Howard partly unfolded a tarp on Brevort's fine sand. He lifted Sylph's bow out of the water, walking her landward a dozen feet, her stern floating, and gently rested her on the tarp on the sugar textured sand. Carefully he eased her a few more feet up the beach.
He stood up looking a little dreamy. "Like walking through a door," he said, "to a new world of sailing---did I say that already?"
Looking back, it's obvious he was infatuated. Howard was in love.
* * *
Lingard, "was aware that his little vessel could give him something not to be had from anybody or anything in the world; something specially his own. ...the mysterious dignity of love. She---the craft---had all the qualities of a living thing: speed, obedience, trustworthiness, endurance, beauty, capacity to do and to suffer---all but life. He---the man---was the inspirer of that thing that to him seemed the most perfect of its kind. His will was its will, his thought was its impulse, his breath was the breath of its existence."
A British yacht had stranded on the "glittering shallows" of the "Shore of Refuge." It was a high spring tide---and the wrong place and time for Lingard's culminating life's work, and a life or death time for the yacht and her people. He decided to bring them off, taking the dinghy to personally carry the owner's wife to Lightning.
"Lingard caught up the sculls, and as the dinghy darted away from the brig's side he had a complete view... . She was beautifully precious. His loving eyes saw her floating at rest in a wavering halo, between an invisible sky and an invisible sea, like a miraculous craft suspended in the air. He turned his head away as if the sight had been too much for him at the moment of separation... ."
* * *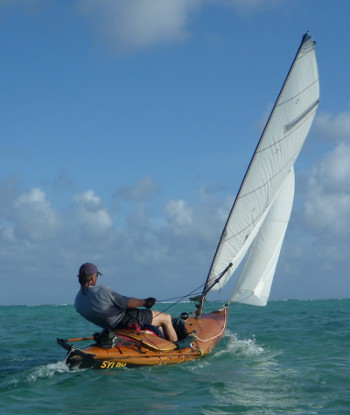 Separation anxiety was too much for Howard, too. On his and Sylph's last night for a year in Michigan's Upper Peninsula, he slept aboard her, trying out her tent. He admitted thinking about shipping Sylph to Pohnpei.
The afternoon before he was to fly out, he brought Sylph in her containerready packaging, and left her to be picked up.
"About this door," I'd asked. "What's the one big difference on the other side?"
"Intimacy. The intimate connection. Like your friend said after his first ride in Walela. The canoe only keeps you dry; it's really just you, and the wind and the water."
A couple days later Sylph was on her way to just north of the Equator, on the other side of the Pacific.
* * *
Although we talk about the romance of boats, we don't often talk about the attraction, the pheromone firehose of boats and humans.
The evening before Lingard rowed the owner's wife from the stranded yacht back to Lightning, the owner and a passenger went missing while taking their cigar stroll on a nearby exposed bank.
Later, Lingard and the owner's wife took the dinghy into the night, and had a brief small boat journey as compelling as any dinghy ride I know in literature.
For a book so pooled in pheromones, there's no hot slobbering of body fluids. Regardless, would that we all could use our boats with such passion! ~HH
Back to top
Back to main page