Aurora, of the 21st Century
...and her kitchen table boatbuilders' mast
The white sail glowing out toward the freighter is Ron Sell's Aurora. Balsam and the smell of freshwater beach are coming at five to eight knots from the east with the sun. Upstream thirty miles is Lake Superior; downstream fifteen miles is Lake Huron.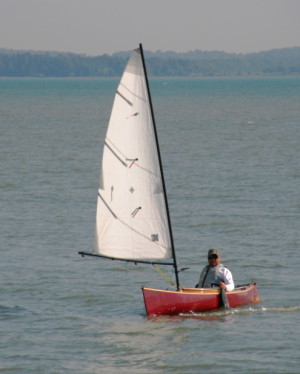 Ron's Aurora is a modern, round bilged sailing canoe, 15 feet 10 inches by 32 inches. The "image of northwoods and floating through the sky, pushed along by unseen forces," gave him her name, he said, not the sailing canoe Aurora from the 19th century.
It's sunny in the 60s. From a north facing point on the St Marys River, my wife Kayann and I are gratefully appreciating Ron's and his Kay's hospitality. Canada is east; Michigan's Upper Peninsula is west. Here the cold St Marys bulges to six miles by three and is called Munuscong Lake. We're looking north along the border. Two miles off the point, up bound freighters jog north northeast three miles to clear the U.S.'s Nebish Island.
I can't help thinking, though, the fellow out there in Aurora is as thrilled as a piglet in peanut butter.
* * *
Twenty three years ago Ron was (and still is), a stocky, blue-eyed fellow with a bemused forehead and eyebrows. He was working for Ned Sharples's CanoeSport in Ann Arbor, installing an A-frame sailing rig which had come with an odd kayak---I'd ordered a twenty footer ostensibly designed for sailing, 32 inches wide with three cockpits.
We've been colleagues since, mostly stoics, sweating low gas gauges past midnight to and from East Coast boating events, or staring into campfires on Great Lakes' shores. We've admired the birds of Cedar Key and reveled in the warmth of many boat weekends in May; and, with others, we quietly mourned Ned, who'd moved to Cedar Key a half dozen years before he died there. Ron had returned Ned's friendship by doing Ned's intravenous chemo regimen for him, on his last year's cross-continent travels.
Aurora's designer is Bob Branch, following his tripping canoe developments with performance prediction software. Ron, the instigator-builder-owner, added much, of course, and Howard Rice contributed.
All are accomplished sailors. Ron is a single blade paddler from childhood, and Bob, a detail-aware dentist, took up single blade paddling a dozen years ago after a long, racing sailing career. Howard, as some of you know, double blade paddled back and forth past Cape Horn on a two month trip in a Klepper Aerius I, the first solo kayaker to round it. Howard spoke for those double blade paddlers with a relentless desire for leaner beam.
Aurora has a short, wide cockpit. The seat is a side to side bench, curved in profile, with a snap in fabric and foam back rest. The leeboard shape is from a racing dinghy's daggerboard; the rudder blade is a wooden foil.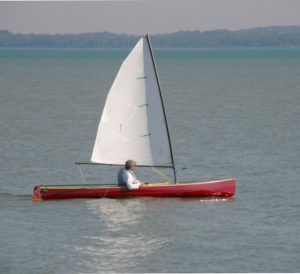 Ron's forty two square foot rig is evolving from the 'dinghy racer' form. Howard designed and built a rig, and sewed its sails for his Sylph, but as a sloop with a jib. Ron was inclined to the dinghy racer form, too, so used Howard's rig as a starting point for Ron's cat rig interpretation. The sail is triangular with a luff rope sliding in a groove glued to the carbon mast. It has a reef, three short battens, and a conventional boom and vang. The halyard is internal but he's changing it to external to eliminate holes in the mast, and to simplify flotation and removing the center section of the mast for a deep reef.
When I finally took Aurora for a ride, it was only fifteen minutes of drifting - light air sailing. Like others in our bunch of canoe sailors, Ron's sheet uses purchase and blocks, while I still cling to the sheet with no blocks between the sail and me. Plainly she differs from the Bufflehead design in her short cockpit. Her paddling-sailing equation is more to equality than Bufflehead, which is tilted to sailing, and Aurora leans more toward day sailer than expedition boat.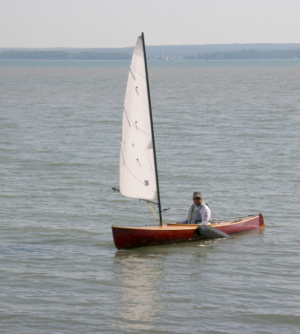 But the hot news for me is Ron's method of mast building---he's given kitchen table boatbuilders the capability to make quite high performing spars! I hefted Ron's mast sections and was blown away. Very light, particularly at the head where it matters most. Specific carbon materials are set in epoxy, and squeezed with plastic stretch wrap over an aluminum mandrel. His mast sections, jointed boom, and jointed steering rod fit in a five foot bag with paddles, leeboard, rudder and sail.
* * *
In the northern sunshine, Aurora glides onto the beach. Ron shows me a small GPS; the little screen has Aurora's track and a buoy. He beams and points out over the water, "that green buoy right there."
~ HH
Back to top
Back to main page