Wanda's Touch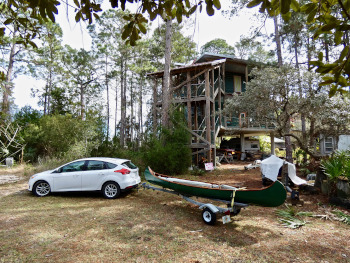 Wanda is an archetypal canvas-on-wood canoe, with a traditional sailing rig. The last week in January 2022, she was with me in Cedar Key, after I'd towed her 50 miles from Lorraine and Bill Whalens' home, a stroll from a lake of several hundred acres. He and his canoe had retired there.
Wanda was an unpretentious guest, even having been sheltered 2/3rds of her 105 years inside a locker under the roof of the Dayton (Ohio) Canoe Club - the same roof protecting Orville Wright's Rushton canoe. Although it was the dry season, I rigged a steep Tyvek cover for her.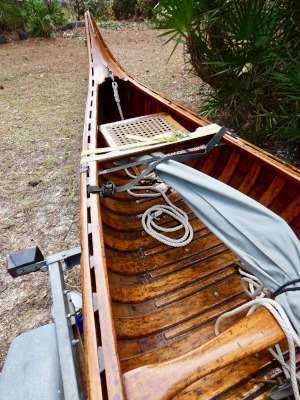 2021, November 3rd. When Valerie Fons saw Whalen's boat for sale, she knew she wanted her. But by the time a friend of Valerie's drove the canoe 1400 miles from here to her home on Washington Island, in Lake Michigan, Valerie, 70, had moved to the Seattle Cancer Care Alliance.
1917, May 14th. A 17 foot Old Town, "Ideal" model, was shipped from Old Town, Maine to the Shroyer Hardware Company of Dayton. Between Shroyer, until the Bielkowiczs in the 1950s, the owners are unknown. And if anyone could have found them, it would've been Bill Whalen with his time as secretary and treasurer of the Dayton Canoe Club, and his M.S. in Library Science.
Peter Bielkowicz, a physicist and mathematician, joined the faculty of the Air Force Institute of Technology, near Dayton, in 1953. In 1939 he had escaped Poland, then France, as Germany invaded. Almost to Gibraltar, he was held two years in Spain. At the end of the War, he worked in England before coming to the States. His wife Wanda, an artist, was sponsored for immigration by the Dayton Art Institute.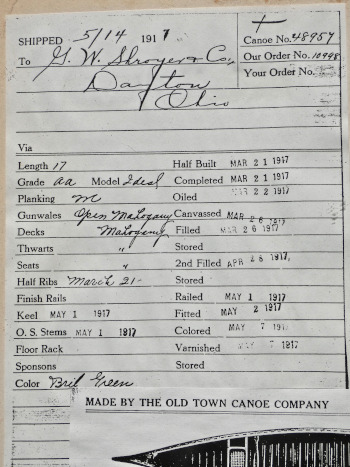 In 1955 in New York State, Bill Whalen's boyhood friend had a canoe on the Delaware river. The Vietnam War made Bill a U.S. submariner - and a sailor - when, in '69 or '70, he sailed "boats decked forward with 4 sailors and their beer," around the sea buoy off Rota Spain. After the Navy, work took him to Dayton, and the DCC introduced him to canoe sailing.
In 1994, checking inventory for the Canoe Club, Bill saw the Bielkowicz's Old Town and bought her from the estate. He was touched by the lore of Wanda Bielkowicz's use of the boat, as an artist and naturist, and named her Wanda.
At the Wooden Canoe Heritage Association?s 1999 Assembly, Whalen added a sail rig from a 1920s Old Town - and won the following year's regatta.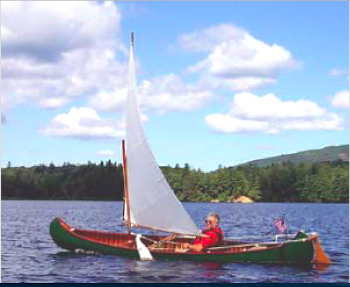 In 2018 he was diagnosed with endocrine cancer. In 2019 a freak, low speed accident at the lake caused spinal cord damage, paralysis, and a year of rehab. Now, at 76, he's carefully walking. "The tree survived the allision; the bill for the tree surgeon was paid through my car insurance!"
In his 27 years with the Old Town, 2001 saw a fine cruise. With two other sailing canoes, they travelled south from Virginia Beach, inside the Outer Banks, through the North Carolina sounds to Roanoke Island. They sailed on all points, but "usually upwind." Two days of powerful afternoon winds made them walk the boats to weather. Nevertheless, he thinks, "The sailing canoe is the ultimate cruising machine."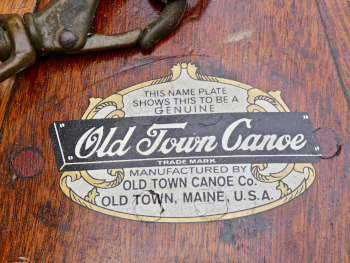 In the Adirondacks, he'd come down a section of the upper Oswegatchie. It had been so compelling, he'd "paddled and portaged back upstream," then down the "twists" at dusk, into his mosquito-control cigar smoke.
In 2020 he'd written, "Wanda is a paddler's dream. Wanda is a sailor's dream... . The walk back home from the small lake, with her on her comfortable wheels and me with my cigar, is a time for remembering. We've sailed, we've paddled, and we've poled together. We've even had memorable portages... ."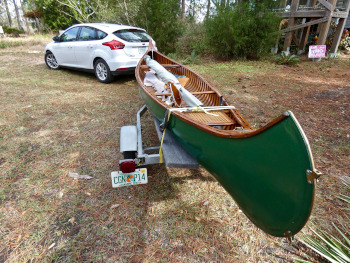 Canoes have been in Valerie Fons's life since she was a youngster in the Bluebirds. Among other canoeing achievements, she, with Verlen Kruger, completed the three year, Two-Continent Canoe Expedition, begun in 1986, from the Arctic to Cape Horn.
Remembering the styrene fumes of Verlen's vinyl ester canoe building, she emailed, "I was drawn to the wood, the craftsmanship the paddler inhabits."
She and Bill Whalen had agreed before a negative report about her 2018 stem cell transplant, necessitating the six month stay at the Seattle Cancer Care Alliance.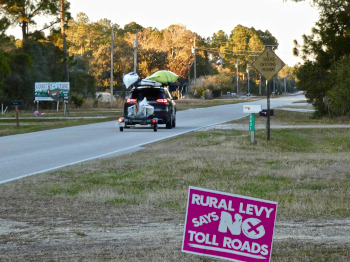 "All of which did not deter me in the least from buying the canoe, for when I return in May to Washington Island. I may never be able to paddle or sail her due to sclerosis, but I will sit with her and write," - for her Doctor of Ministry, and a book. Her 2010 leukemia remains in remission.
Wanda's trailer lights were bright when she left at dusk. That canoe radiates resilience, but not more than Bill and Valerie.
~HH
Valerie died December 10, 2022.
Back to top
Back to main page