A Balance with Life's Time
~~~ Boats & house, critters & cake
Previously published in Small Craft Advisor, Jan/Feb 2015, Issue No. 91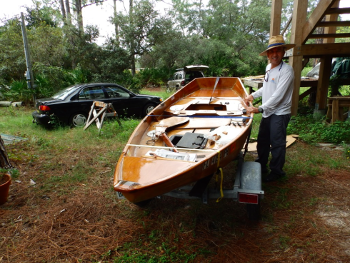 Sunday, 28th September 2014, in Cedar Key after months of growing Rocking Toddler to ten feet eight inches from Rocking Baby's seven feet nine inches, Marian Buszko drove her home. He's generous and kind. His job couldn't have come at a better time, becoming the house's HVAC system.
Spoiled curmudgeonly me wants to jump at building two Clam Girls, or finishing the Trinka 12 bare hull. But it's cooler now, and the house must get its Certificate of Occupancy.
The day after Marian left with his grown daggerboarder, Karen and I were in Michigan visiting my week-old step-grandson, Julian, and his mother Erica and her family.
Driving up Michigan's I-75 in all-day rain, our talk included Karen's 1964 fiberglass Ensign. The next week, she'll prop the ballasted twenty two footer on the hard.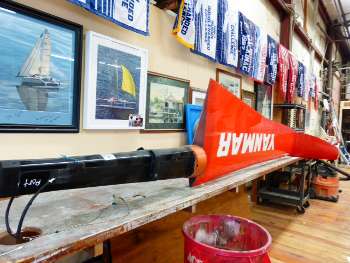 We stopped in Bay City at the Gougeon boatshop, a veritable museum of Jan Gougeon's brilliance. Karen was starstruck by their multihulls and historical photographs. On a bench was a rudder from Oracle, the America's Cup winner. The rudder had given real time data from strain gauges.
On up I-75 we chatted about the Everglades Challenge, sailing canoes and dinghies, Kleppers and Kay Stremler's Trinka 12, which we might sail in the Upper Peninsula. A sister hull is next to my travel trailer in Florida.
But at latitude 46° N at Stremler's and Ron Sell's between Lakes Superior and Huron, it was 46° Fahrenheit. And steady rain in a twelve knot northwesterly --- the weather I'd joked we could have. I was accustomed to zero air conditioning, but not this.
Less than a week ago in Cedar Key, after the Autumnal Equinox, it'd been 86% relative humidity and 86° F.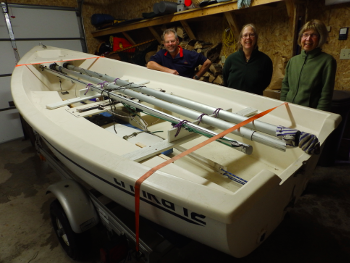 So, we gathered around the Trinka in their insulated garage. Surprise --- this Trinka 12 has a daggerboard, not the centerboard option on Bruce Kirby's plans. Daggerboard pain this year, though, was likely soothed by almost two feet higher water in the Great Lakes.
October fifth we crossed back on the "Big Mac" suspension bridge a couple hundred feet over the Straits of Mackinac, again wary of "High Wind Warnings." But it was the vista which blew us away. Between rattling deluges, low clouds snow-white to soot-dark streamed over silvery, gleaming patches of Lake Huron.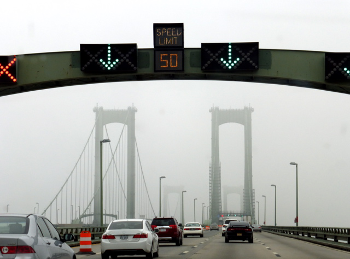 The Bridge sharpens memories, too, from fifty years of faces and tales, over and under it. Before it was finished in 1957, my dad, Hal, and I rode a ferry across the five miles of the Straits.
In Traverse City, we met Karen's elder first cousin, a Columbia 22 sailor, devoted fisherman and volunteer to the Maritime Heritage Alliance and its two historic schooners. In 1980 he thought about a system to join canoes side by side, for motoring, sailing or paddling on fishing trips. He patented it in 1997.
Karen loves to subtly remind people to ask me, "When will the house be done?" After the fine lunch at her cousin's, his wife did ask.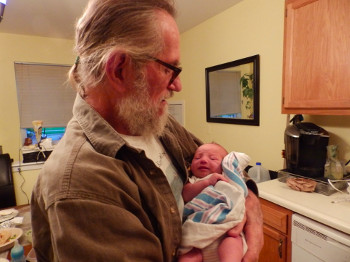 Although I believe the house's timetable is largely set by money and labor, boat materials are ready. But, the laborer in the mirror looks less surly toward house work in autumn. This seems a little like the Navajo idea of "Hozho," balancing dualities and unifying them, of reacting to real conditions as we should do with seamanship.
On one side of an imaginary balance point is the C of O. On the other is building a couple Clam Girl ten foot skiffs, or fitting out the Trinka hull with Jan's framing suggestions, and with the tapered carbon tubes for leeboard mounts he'd made and brought to Cedar Key, the last time I saw him.
The flaw in my "cake and eat it, too," attitude is we have plenty of other boats, but no fully functioning dwelling.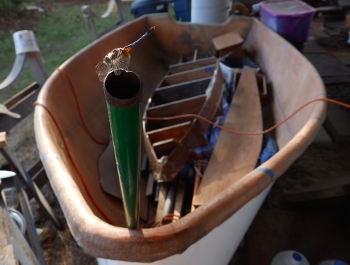 Even so, the Trinka hull, isn't far out of mind. A dozen times a day I glance down her sheer with its eight blue tape marks for her mast and frames. She could carry us and our families on day trips in Cedar Key. And Karen and I could travel intriguing routes in our race that matters --- with life's time.
The Trinka hull is two steps out my trailer's door. A broom's handle I use daily sticks up from the crook of her stem, almost eye level. The cheap steel tube seems undersized; its plastic end fitting is gone.
The tube is a favorite spot for several kinds of dragonflies. And tree frogs linger there with eyes and nose out. Twice I've seen a frog and a dragonfly together. They're oblivious to the Trinka, but I like them. I want their coming generations to meet Karen's and my families, down to the newest, Julian.
~HH
Back to top
Back to main page