Comings, Goings & White Pelicans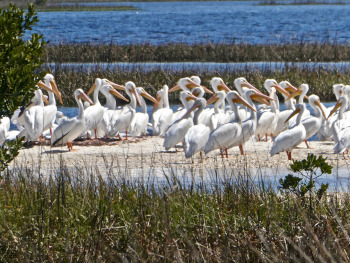 The earth wobbled properly and the moon swung where it should - tides helped us sail in late December 2020 and the first months of 2021. Weather did, too. The water could have been blown out by a 30 knot frigid northerly, or our timbers shivered by thrashing squalls, close lightning and tornado threats. Whatever, the pandemic in the Cedar Keys was ashore.
For Clam Girl or sailing canoes, at perigean spring tides, if propitious winds, too, keep the opaque water up, Cedar Keys' waters - tannin and nutrient-rich - seem as deep as Puget Sound. The reverse, though, has trickling meanders through mud flats and dryoyster beds. For all of Cedar Keys' beguiling sailing potential, it can frustrate.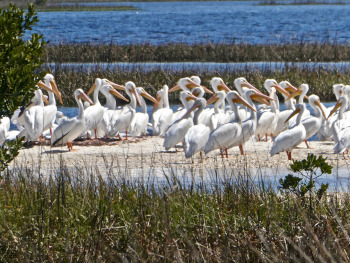 This year, if there were frisky weather gods they grinned with us, giving southerlies - full sail to a double reef - and an occasional, short-lived northerly, too brief to shove the water out too long.
Clam Girl's comfortable range from the Shell Mound ramp has a dozen square miles of coastal islands and salt marsh in the Lower Suwannee NWR. We normally launch on the last third of the flood, and take out in the first quarter of the ebb, keeping the trailer and car tires out of wet, tidal sand.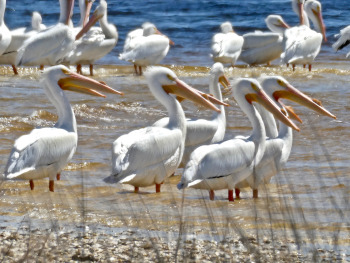 In early March we sailed six days of seven. White Pelicans, massing in hundreds for migration demanded attention, so, each day we sailed to look. From binocular distance, just their presence on sandbars was captivating. I'm sure we saw more than a thousand. Their shape and color - snow white with black wing tip flight-feathers, rich yellow bills and bright orange feet - would be unique enough if they were the size of robins. But, they are immense, twice the weight of Brown Pelicans, and among North America's biggest birds. Skimming the water in graceful lines, their broad wings flash white, and are vivid in kettles of soaring birds a thousand feet high.
Daysails began with the question, will the White Pelicans be upwind again? Can we best the flood, and short tack south up the Hog Island channel? Most days we did, but it got tough as the flood's velocity increased with the greater daily range. On the 16th we'd plowed into the marsh to reef from single to double. In minutes, though, as Karen strove futilely to weather, we agreed and said, "broad off".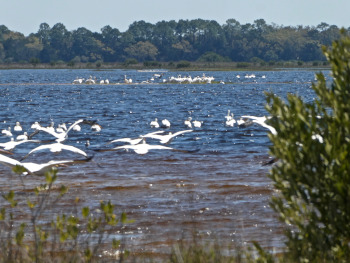 She suggested north of Buck Island and west inside Long Cabbage Key. We beat past a favorite lunchstop sandbar, and were startled by the eroded barrier islets, and wider openings to the Gulf. Immediately we were challenged by the current rushing at us from Buck-Hog Sound through the channel between islets and marsh, oyster bars squeezing from each side. Many tacks later - grinding out minuscule distance good, or not, or backwards - we made it, gybed, and blasted back through the channel, then tacked into the lee of Buck for lunch.
March 29th, following a meek cold front we sailed the 5th day of six. The day had begun close-hauled with a single reef for a northeasterly 9-7 knots. In a quarter mile we were complaining and shook out underway to full sail.
Returning the two miles from Deer Island's north beach, the dismal zephyr had clocked east southeast to nearly nothing. I used all three paddles, sitting, standing, or bending under the boom, usually against current and the fizzling southeasterly.
Closing the shore, we feared the worst from nosee-'ems, but, a moment after landing, a lovely northwesterly blew straight into the ramp at about 6 knots. The little creeps were vanquished. Just the breeze I'd have wanted, too, to not paddle.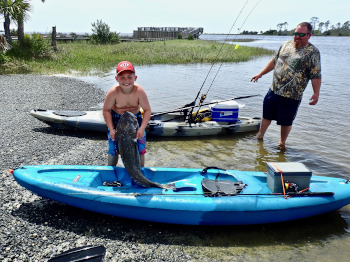 Over a couple decades we've watched the proliferation of fishing kayaks. A moment after we landed, a kid's voice came from the water, "It sure is tiring, paddling with a 40 pound fish!" It was a Black Drum, too heavy for him to pick up. Behind him,from a kayak sprouting fishing rods, dad boomed, "His first big one!"
Karen wants to sail seven miles north to the mouth of the Suwannee, overnight in a cabin two miles up River, and return the next day. For the Suwannee to be reliable to enter and leave, the water depth at the Shell Mound would likely be awkwardly low, either going or coming.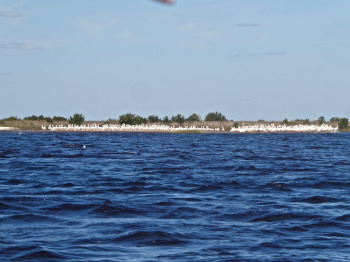 A Hobie Adventure Island dolly got me to think. If I can trundle CG's loaded two hundred pounds into and out of low water, could we add an hour or so before and after the high, on each daysail? The rough dolly is awaiting trials.
How much mule is left in us? Will we need a burro or long, non-stretch line to the car to tug Clam Girl up and across the nearly level, sandy bottom?
~HH
Back to top
Back to main page